Why Choose Scarfone Hawkins
Scarfone Hawkins is a dynamic, results-oriented firm with a sophisticated, complex case load and 30 unique practice areas. If you're an ambitious, hard-working, creative student or young associate who craves a fast-paced environment, this could be the start of a beautiful relationship.
Hands-on experience.
At Scarfone Hawkins, you start from day one working on real files with real clients in diverse practice areas. Students aren't picking up dry cleaning or completing make-work projects–they're meeting with clients, drafting agreements, researching time-sensitive topics and helping lawyers prepare for trial.
Full exposure.
You can't know what you want to do until you've done it. That's why articling students get two five-month rotations, one in corporate law and the other in litigation, and summer students work in all practice areas. You won't find the diversity of files and calibre of clients anywhere else outside of Toronto.
A team approach.
By working with teams of partners and associates, each with its own expertise and culture, you get to truly to experience what it's like to work at a mid-sized law firm. Using a team approach, supervision is ongoing, feedback is immediate and our focus stays on your professional development.
Excellent hire-back.
We're a growing, youth-oriented firm that chooses our students carefully and invests in their training. That's why we like to promote from within. An average of one summer student has been hired for articling and one articling student has been hired as an associate each year since 2009.
What to Expect
What it's really like to article at Scarfone Hawkins.
Bring your running shoes.
We guarantee two things when you article at Scarfone Hawkins. Number one: You'll get more action than you ever thought possible. Articling students have been known to go to court on the very first day of their litigation rotation. And it's not to carry the partner's briefcase. Number two: You'll never know what's coming next. Our students work directly with teams of lawyers who keep them hopping. But they're also there for support and supervision. Our advice? Go with the flow.
Start your day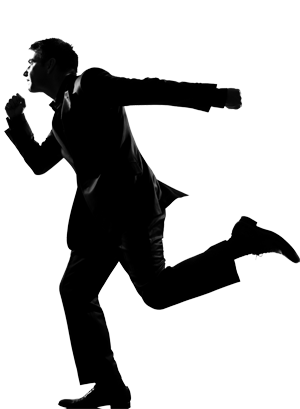 Advice
"Think about what you want to get out of your articling experience. If you don't want to do much more than write memos for someone else, work in Toronto."

− Adam Savaglio
"All the law firms look very much the same but the more you're able to tell what separates each of them the easier it will be to picture yourself there."

− Colleen Yamashita
"In school it's easy to be attracted to the more academic courses like constitutional human rights. Don't forget about courses that will relate to the work you'll be doing, like real estate, secured transactions, bankruptcy and insolvency."

− David Rosati
"If you article at Scarfone Hawkins you're going to be busy. You're going to have a lot of work and you're going to learn. You only get 10 months. It's better to be busy and learn than be able to watch more TV."

− Lauren Grimaldi
"It's a long day and a long career. Articling is not just about getting a job. It's about the experience, who you're going to be trained under, what you think you want to do. Interview us like we interview you. It's a big life decision. You want to find the right fit."

− Mike Stanton
"Let your experiences guide your journey. You can't know what you really want to do and what you're good at until you start doing it."

− Natalie Porcaro-Clermont
"At school you learn the fundamental principles and how to analyze the law. Your task now is to learn to be a lawyer. When you're faced with a case--writing a memo, dealing with a client--think results. It's not a law school test. You're trying to get the most efficient and best answer for your client. It's about principles versus practicalities."

− Jim Scarfone
"Be bold in your writing. Don't use 20 words when you can use ten. Plain, direct discussion means you can be a better advocate."

− Dave Thompson
News & Events
YES! We attend law school career fairs in Ontario. Make sure you look for the Scarfone Hawkins table. We promise some frank talk and maybe even some fun.
Lunch and learn! We're sponsoring the tour of Hamilton law firms for Western and Windsor law students again in March. Come for lunch and meet the lawyers behind one of the most dynamic law firms in the region.
Say cheers! It's a Scarfone Hawkins tradition to host a cocktail party for articling candidates after articling interviews are over. It's a bit of face time you won't want to miss!
Our Blog